---
MIFFY CLIP-ON FAN

 
(3D Night Lamp Design)
This Lovely Miffy Clip-on Fan can move a lot of air for its size. the Clip On design has a sturdy clip that can mount on just about surface up to 2 inches thick at 360°Rotation horizontally and vertically. Operated with Rechargeable Battery. Designed with the lovely Miffy 3D night Lamp.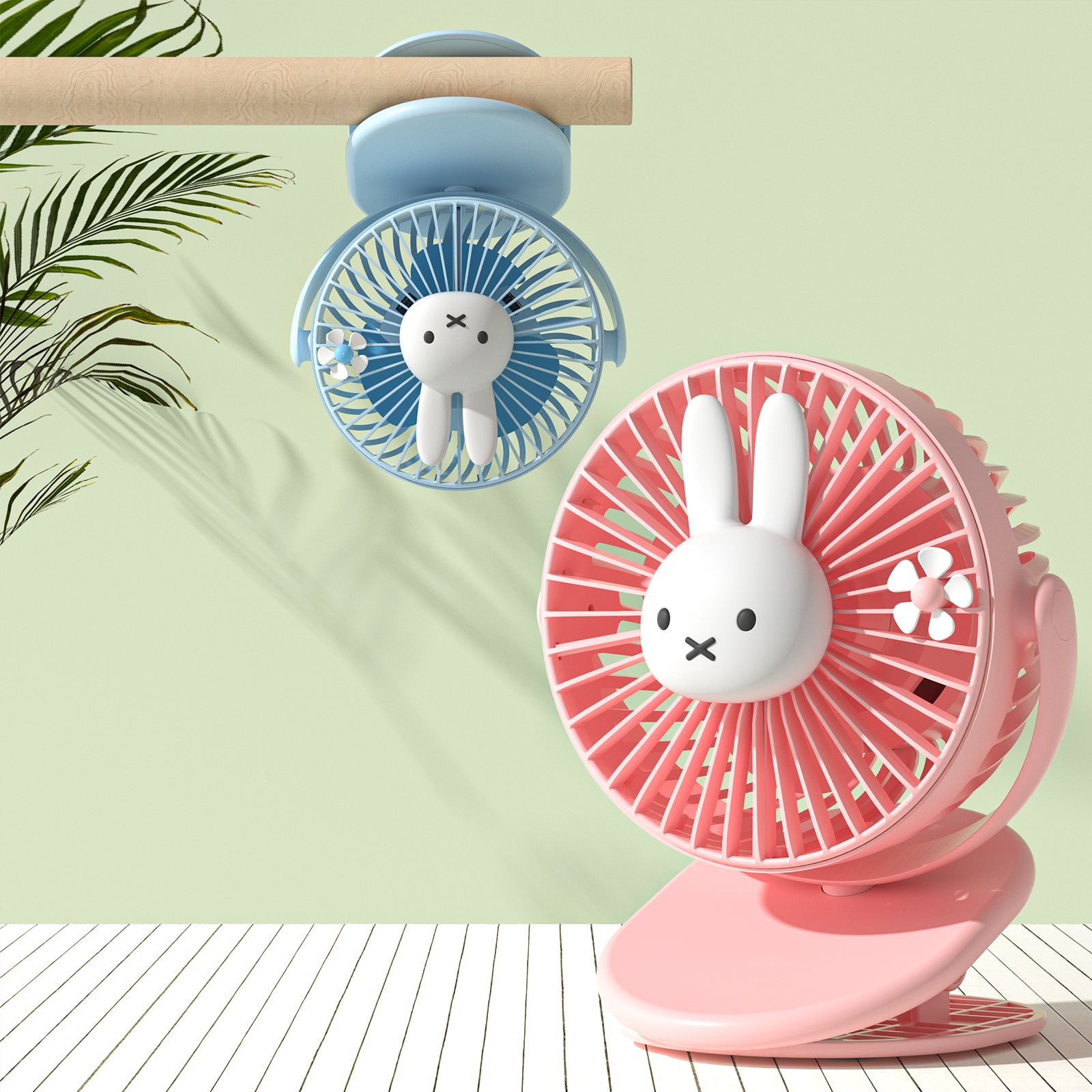 Powerful Wind &

 

Low Noise

 
Use high quality upgraded brushless motor
,
the clip on fan have 3 wind speeds
(
2400-4000 RPM
)
and the max wind speed can reach up 10ft/s in lowest decibel
(
≤40dB
),
it will not disturb you at all when you are working or sleeping.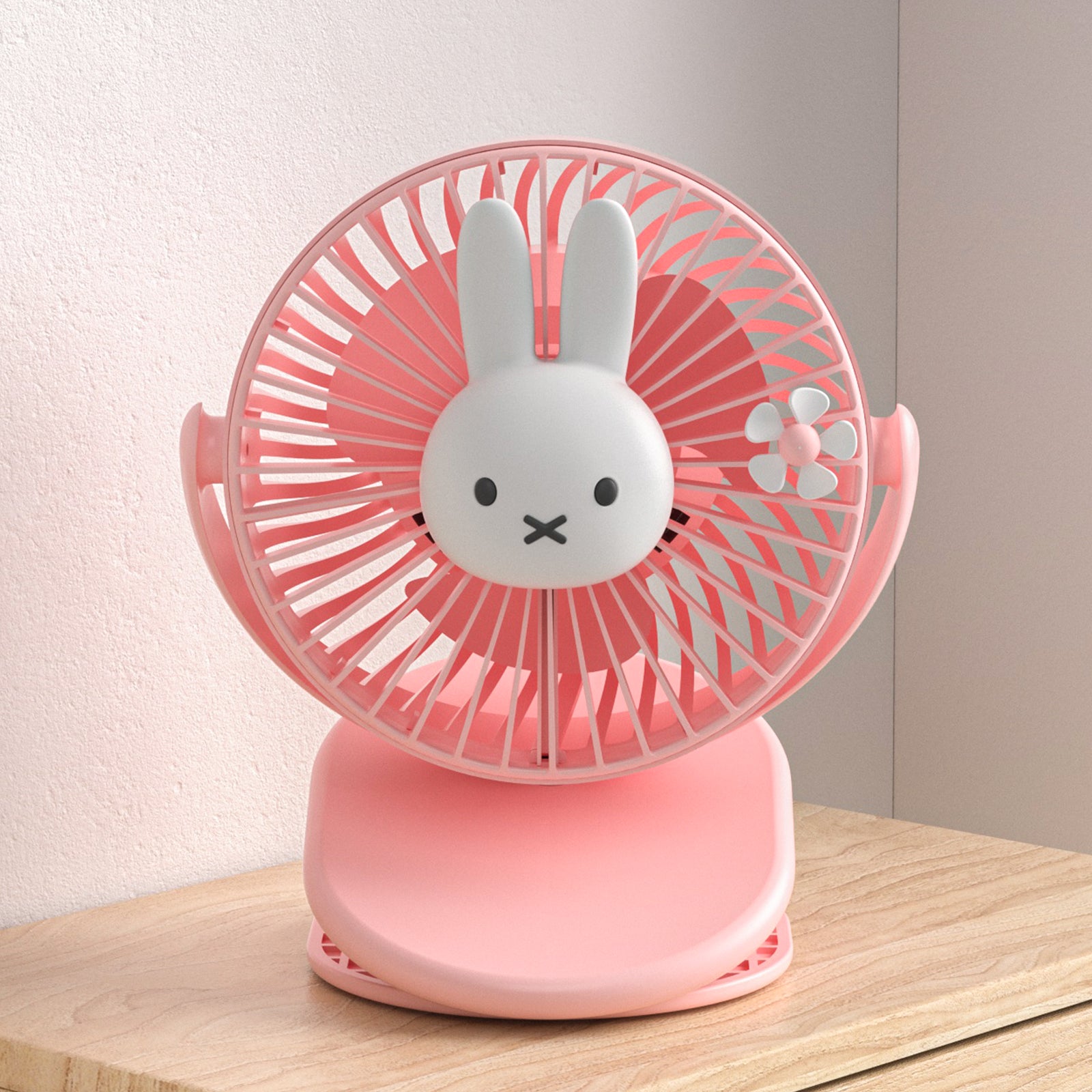 3D Night Light Design

 
Cute Miffy 3D figurine Night light design. its smooth and warm light
,
it suitable to use for bedtime time while blow air from CLIP-ON Fan. You can separately turn on and turn off the Night Light function.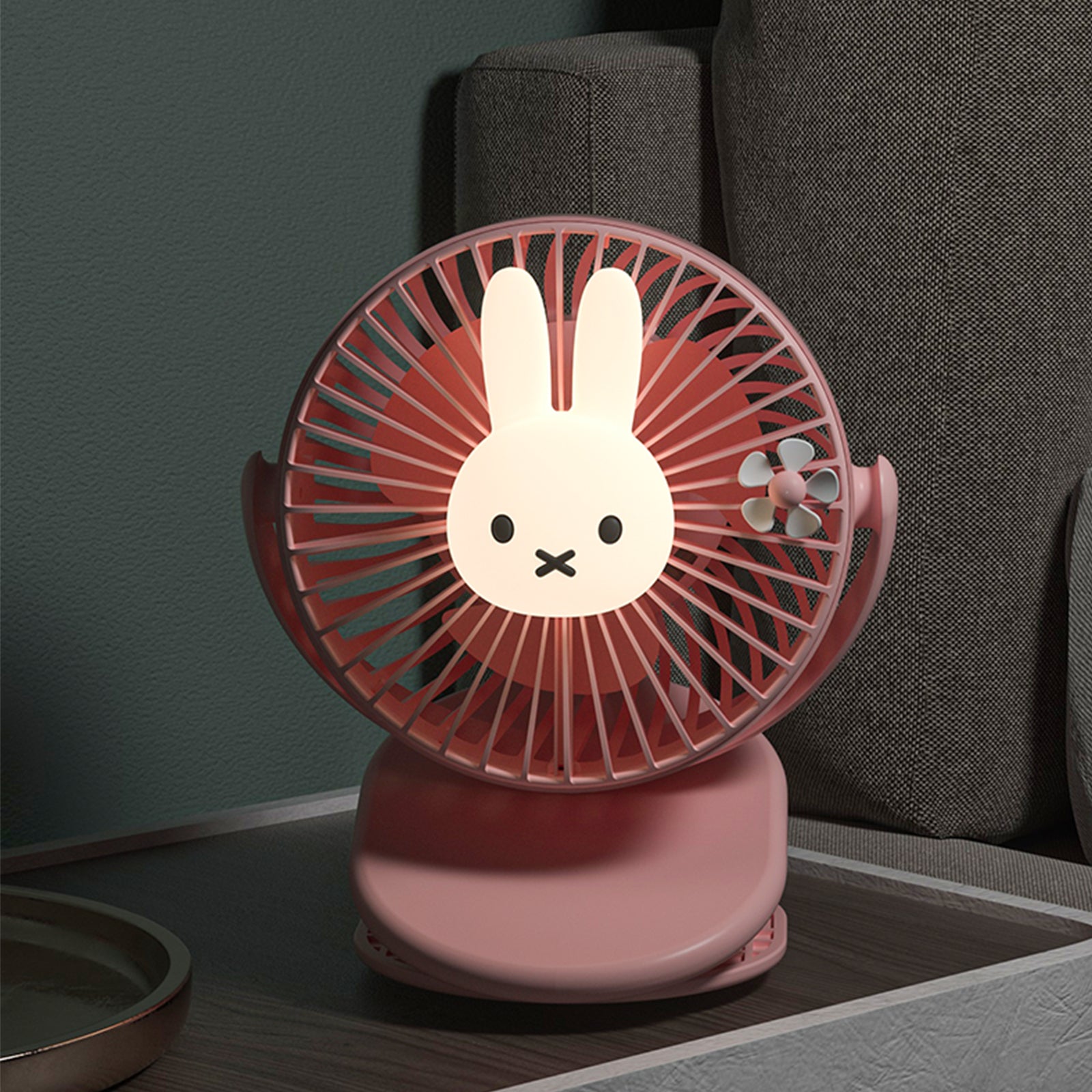 360°Rotation

   
This clip on fan can be rotated 360°horizontally and vertically
,
It is convenient to control the direction of the wind. You can enjoy the wind from all angles. The narrow gap is designed to protect the baby
,
prevent the finger from being hurt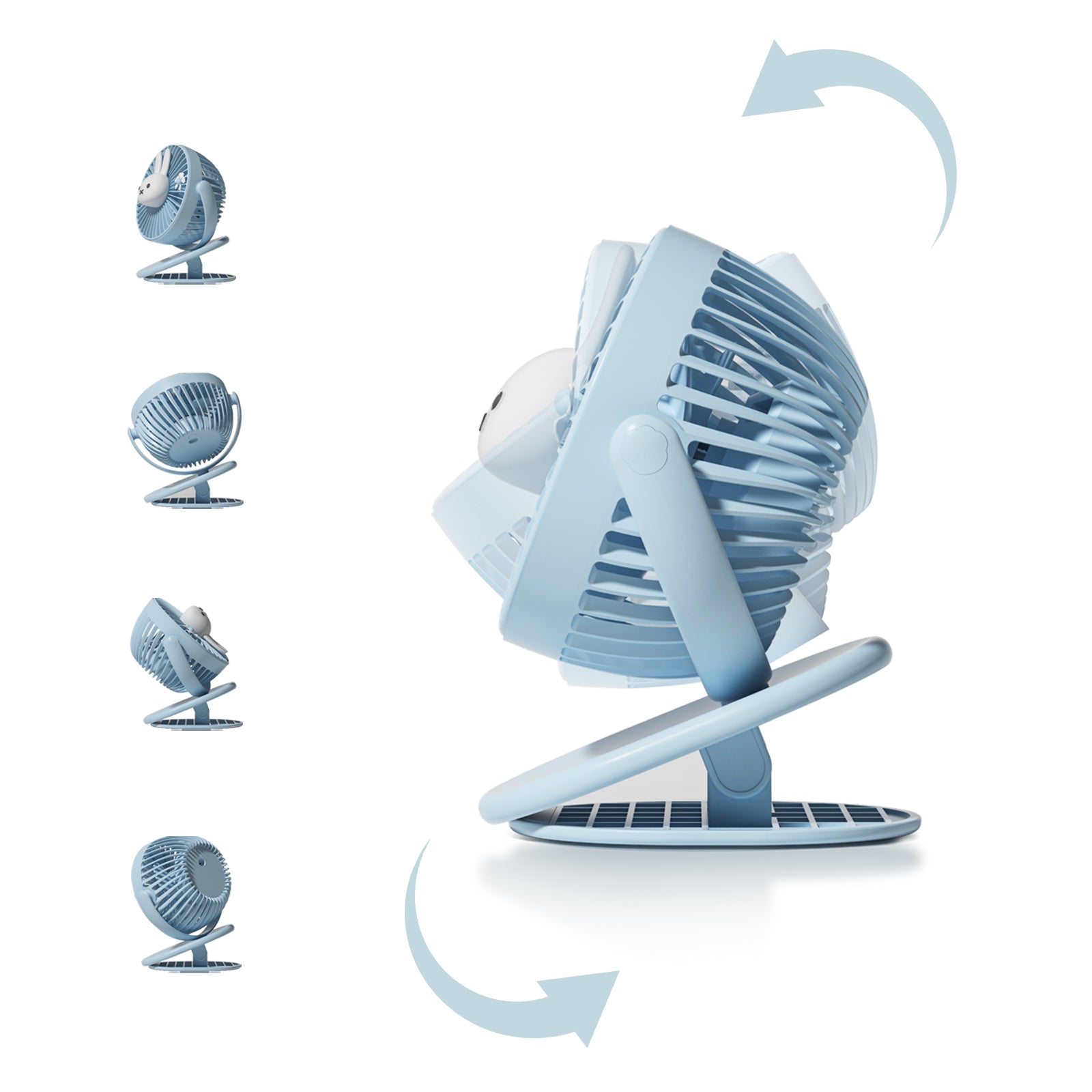 Sit-on Table OR

 

Clip Anywhere
The strong grip allows it to be clipped on anywhere which thickness within 2 inches
,
suitable for baby stroller
,
office desk
,
library
,
laptop
,
gym workout
,
car backseat etc. It can also be stably placed on the table with built-on non-slip mats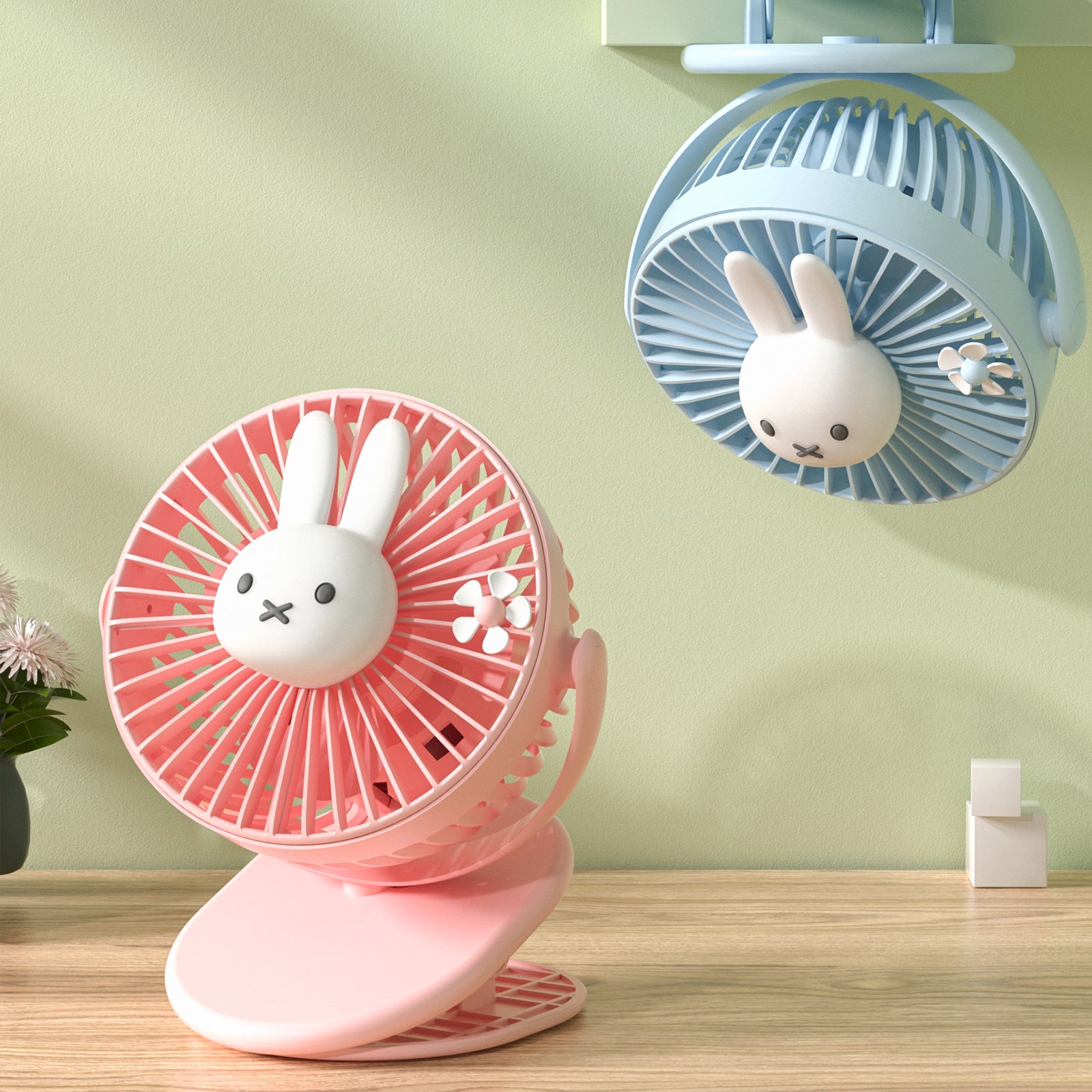 Strong Grip Clamp

 
The strong clip
,
tested hundreds of times
,
can fix on any surface firmly less than 2inches thick
,
and the anti-scratch pad inside the clamp can protect the object surface well
,
so it can be widely used for office desk
,
baby stroller
,
car backseat
,
kitchen cooking
,
gym exercising and other indoor/outdoor activities.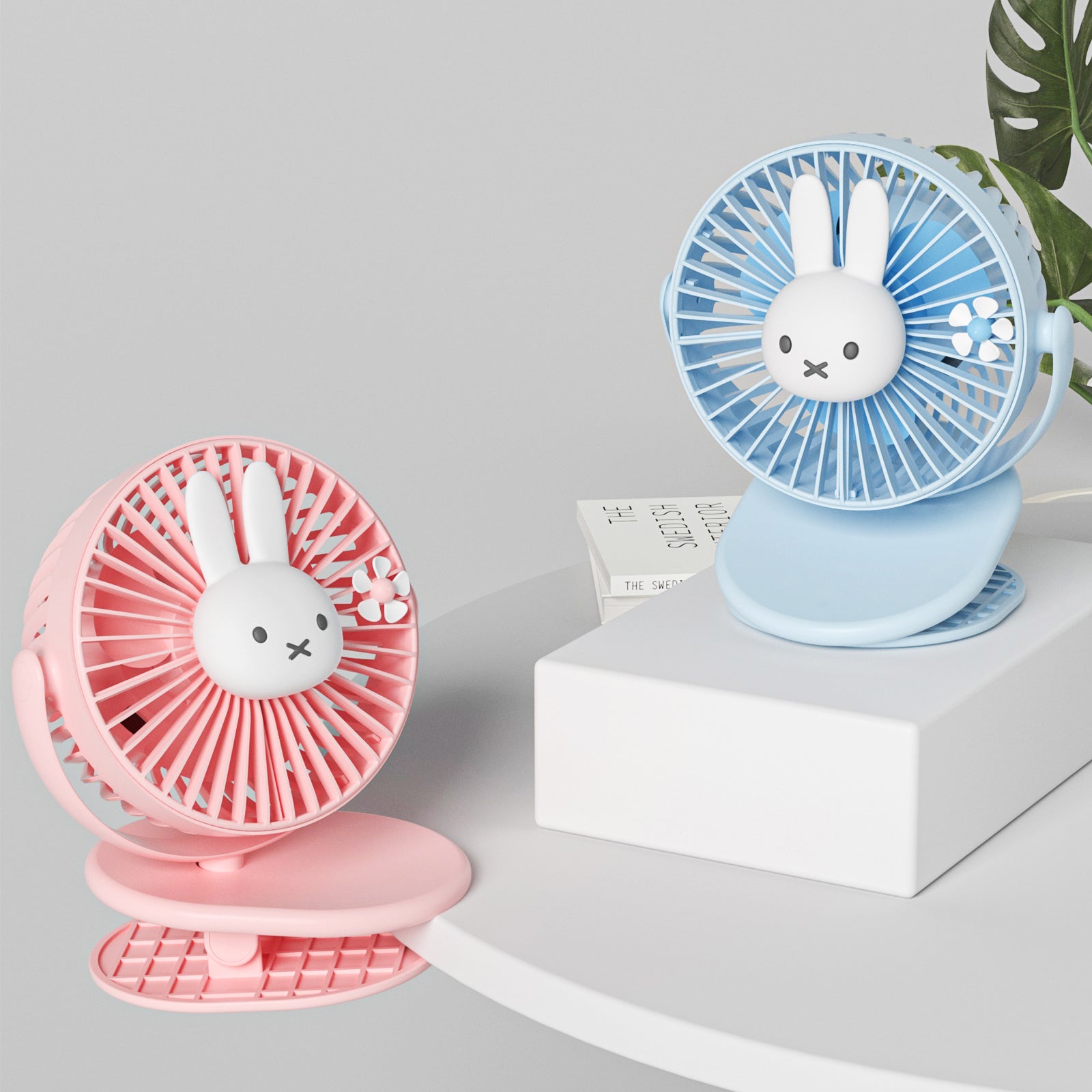 Baby Safe & Adjustable Head

 
Humanized design make this stroller fan safe for baby and child. Narrow to 0.27" between the gap of fence
,
protect the angel' s fingers from being hurt by the blade. The fan head can be adjusted 360 degree vertically and horizontally.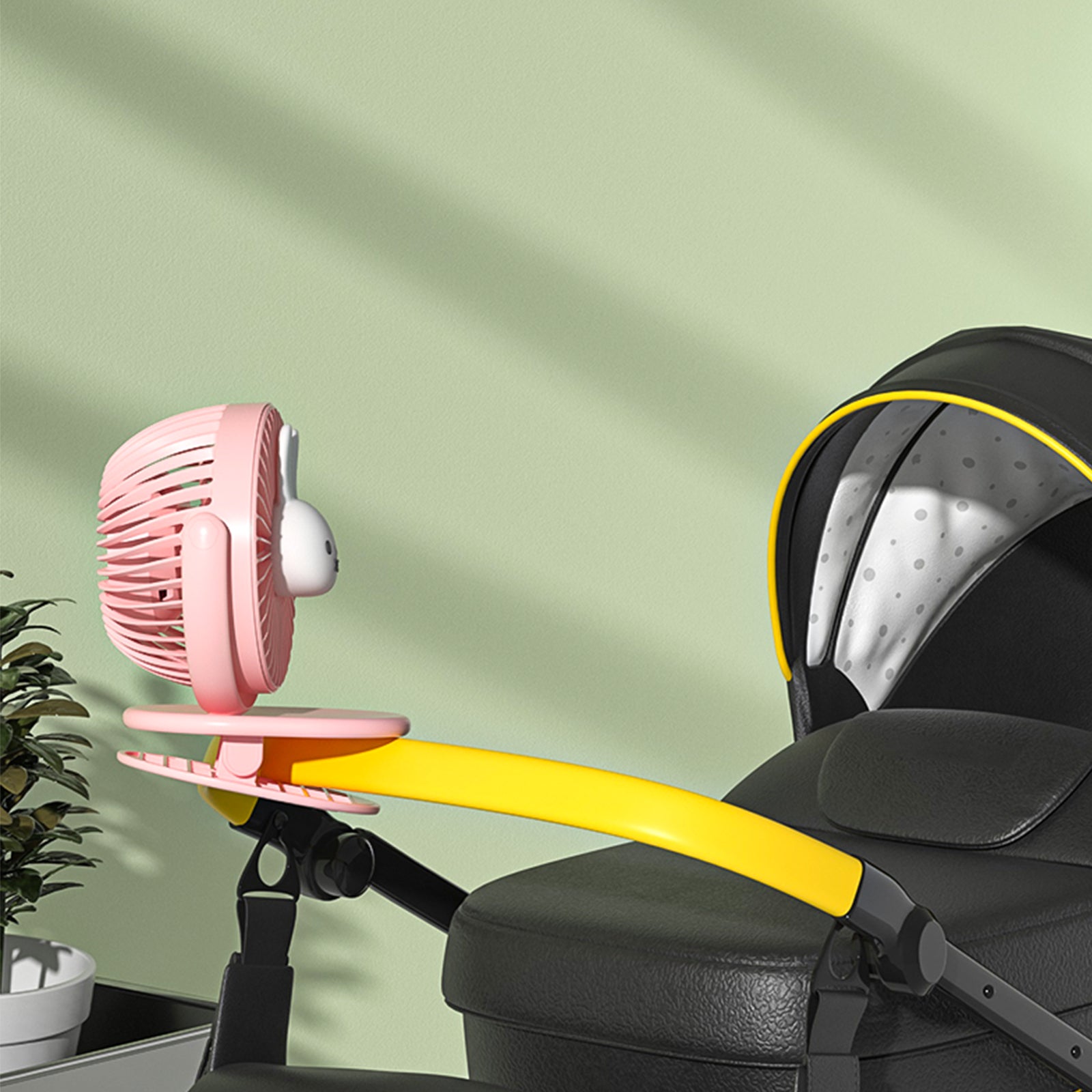 Powerful Wind &

 

Low Noise

 
Use high quality upgraded brushless motor
,
the clip on fan have 3 wind speeds
(
2400-4000 RPM
)
and the max wind speed can reach up 10ft/s in lowest decibel
(
≤40dB
),
it will not disturb you at all when you are working or sleeping.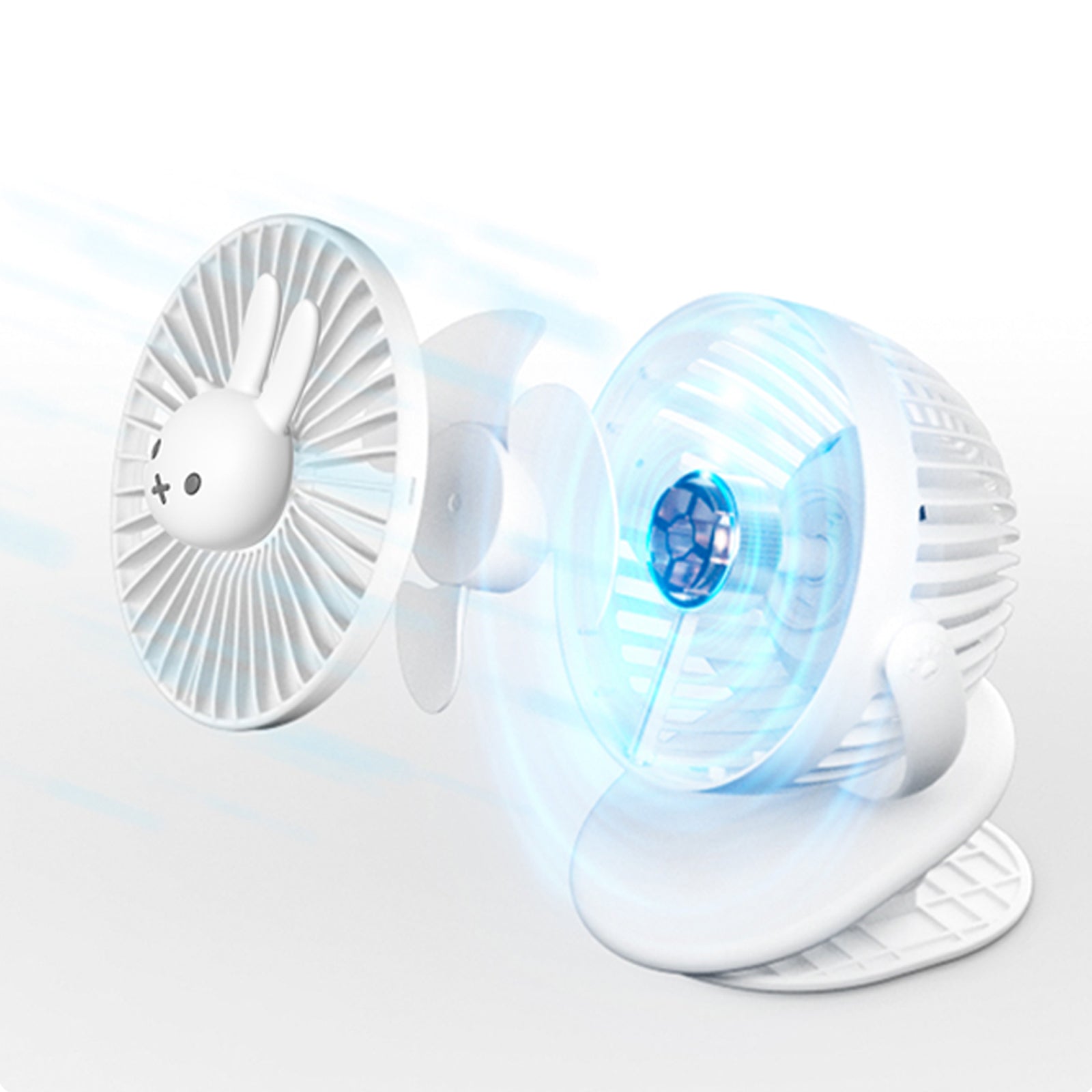 USB-C or Battery Operated

 
Miffy CLIP-ON fan can be powered individually by USB cable or battery
(
both included
)
. The built-in 2000mAh rechargeable battery can last for about 4 to 10 hours
,
and full charged within 2.5 hours. Note: It can be worked normally while charging.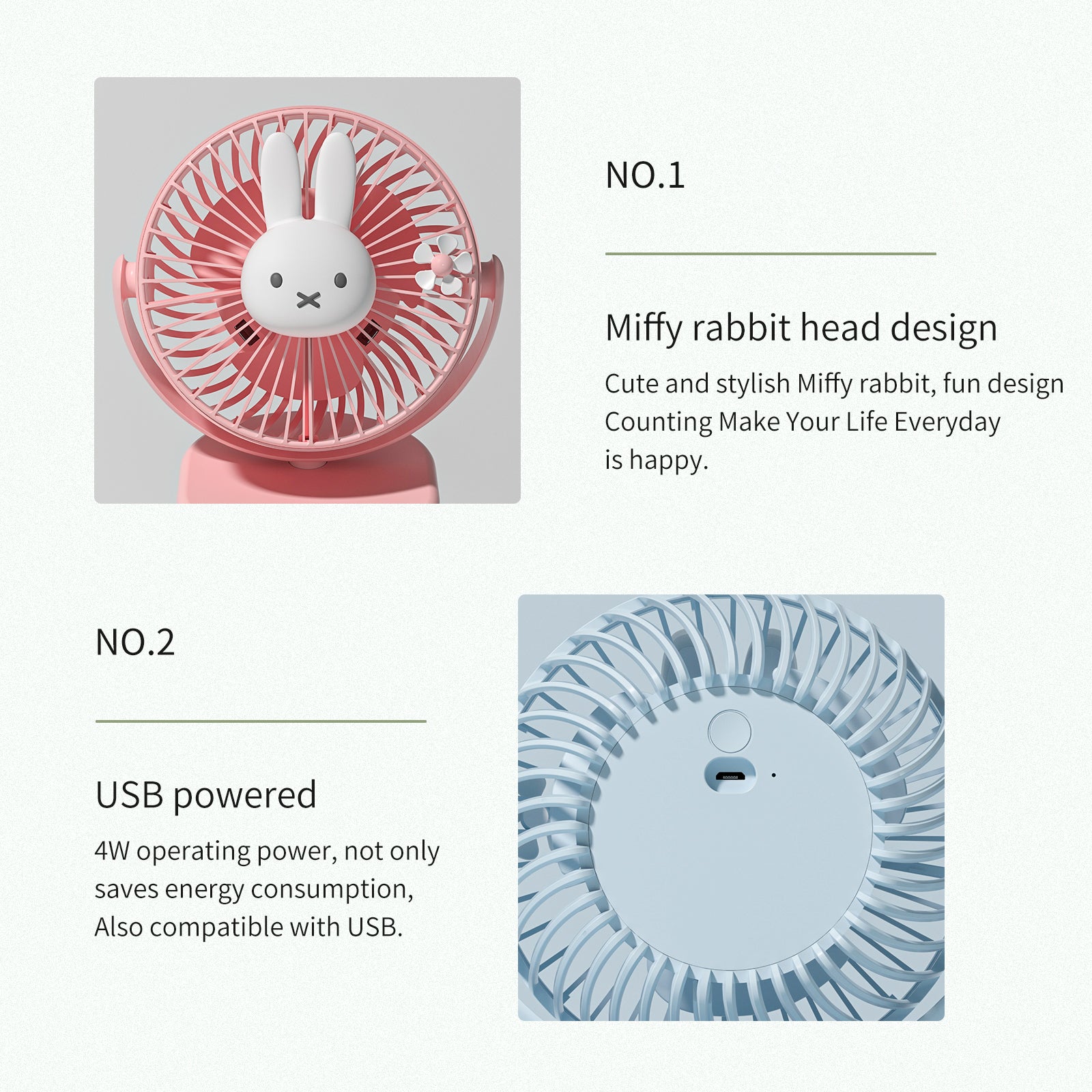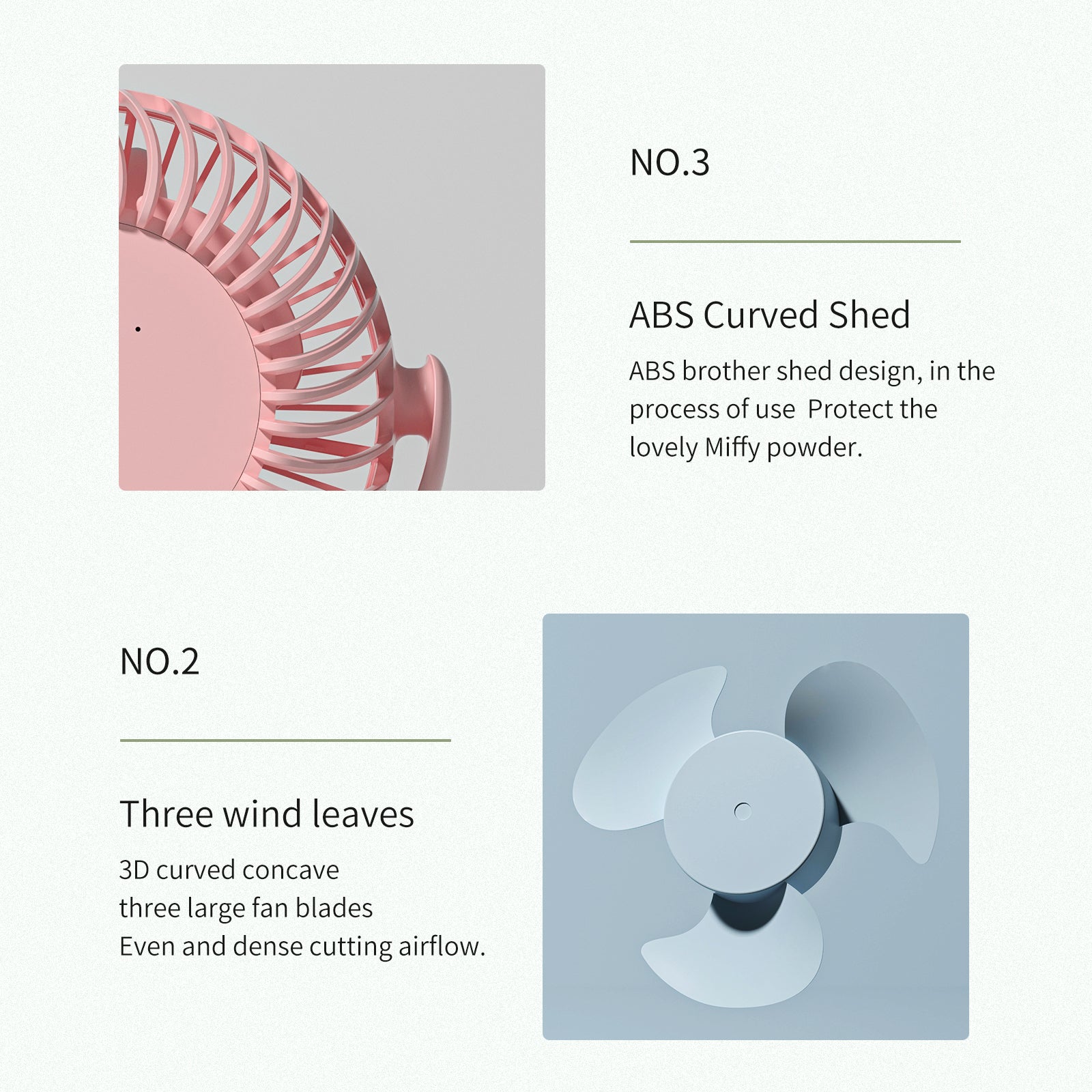 Bunny VS Cute Cuteness and kawaii Disney & Sanrio Pink & Blue Gift
For Payment
Pay with Credit Card by use the PayPal Express Check Out without Register PayPal account
1. Click On Express Check Out
2. Click On Pay with Credit or Debit Card
3. Enter your Email and Click Continue to Payment 
4. Enter Your credit cad number and information on credit card includes name, expiration date, and CSC Code 
For Shipping

 
We Provide World Wide Door to Door service. 
We $0 Free Ship to worldwide countries: Hong Kong SAR, Indonesia, Japan (45 of 47 prefectures), Malaysia, Philippines (81 of 82 regions), Singapore, South Korea, Taiwan, Thailand, United Kingdom, United States (56 of 62 states), China, Austria, Croatia, Czechia, Denmark, Finland, France, Germany, Hungary, Latvia, Luxembourg, Netherlands, Poland, Slovakia, Slovenia, Sweden, Australia, Ireland, Italy, Portugal, Spain 
We added $5 USD onetime special Handle Fee to Shipping for these countries: Albania, Algeria, Andorra, Angola, Anguilla, Antigua & Barbuda, Argentina, Armenia, Aruba, Bahamas, Barbados, Belarus, Belize, Benin, Bermuda, Bolivia, Bosnia & Herzegovina, Botswana, Bulgaria, Burkina Faso, Burundi, Cambodia, Cape Verde, Caribbean Netherlands, Central African Republic, Chad, Chile, Colombia, Comoros, Congo - Brazzaville, Congo - Kinshasa, Côte d'Ivoire, Curaçao, Cyprus, Djibouti, Dominica, Dominican Republic, Ecuador, Egypt, Equatorial Guinea, Eritrea, Estonia, Eswatini, Ethiopia, Fiji, French Guiana, French Polynesia, Gabon, Gambia, Georgia, Ghana, Gibraltar, Greece, Greenland, Grenada, Guadeloupe, Guatemala, Guernsey, Guinea, Guinea-Bissau, Guyana, Haiti, Vatican City, Honduras, Iceland, Iraq, Israel, Jamaica, Jersey, Jordan, Kazakhstan, Kenya, Kiribati, Kosovo, Kuwait, Kyrgyzstan, Laos, Lebanon, Lesotho, Liberia, Libya, Liechtenstein, Lithuania, Macao SAR, Madagascar, Malawi, Mali, Malta, Martinique, Mauritania, Mauritius, Mayotte, Moldova, Monaco, Montenegro, Montserrat, Morocco, Mozambique, Myanmar (Burma), Namibia, Nauru, New Caledonia, New Zealand, Nicaragua, Niger, Nigeria, Niue, North Macedonia, Norway, Oman, Pakistan, Panama, Papua New Guinea, Paraguay, Peru, Qatar, Cameroon, Réunion, Romania, Russia, Rwanda, St. Barthélemy, St. Helena, St. Kitts & Nevis, St. Lucia, St. Martin, St. Pierre & Miquelon, Samoa, San Marino, São Tomé & Príncipe, Saudi Arabia, Senegal, Serbia, Seychelles, Sierra Leone, Sint Maarten, Somalia, South Africa (8 of 9 provinces), South Sudan, Sri Lanka, St. Vincent & Grenadines, Sudan, Suriname, Svalbard & Jan Mayen, Switzerland, Tanzania, Timor-Leste, Togo, Tokelau, Tonga, Trinidad & Tobago, Tunisia, Turkey, Tuvalu, Uganda, Ukraine, United Arab Emirates, Vanuatu, Venezuela, Vietnam, Wallis & Futuna, Western Sahara, Yemen, Zambia, Zimbabwe, Tristan da Cunha, Belgium, Brazil, Canada, Mexico, United States (5 of 62 states), India 
If there's any shipment or other issues, you're welcome to drop us a few words via email at support@mipow.com.
Handling Time
All  order will be handled in 24 hours after recieve order, delivery notice will be sent to buyer upon shipment. 
Delivery Time & Notice
Delivery time would take around 7-15 business days.
Timing may be varied with the customs checking progress and depends on the real situation of the regions.
Shipping Address
When buyer fill in the info, please note:
-   Recipient Name
-   Address
-   Postal code
-   Phone contact
-   Email address
Please make sure these info are correct and in place.