---
Keyboard + Speaker Combo Gift Pack
Mipow X Miffy Foldable Bluetooth Keyboard + Speaker Combo Gift Pack is 
A thoughtful gift pack for friend
,
A Miffy Foldable Bluetooth Keyboard combo packed with cute miffy figurine bluetooth speaker.
listen and enjoy to music
,
and playing writing with miffy keyboard from your mobile phone or tablet. Turn your mobile or tablet to a cute working station.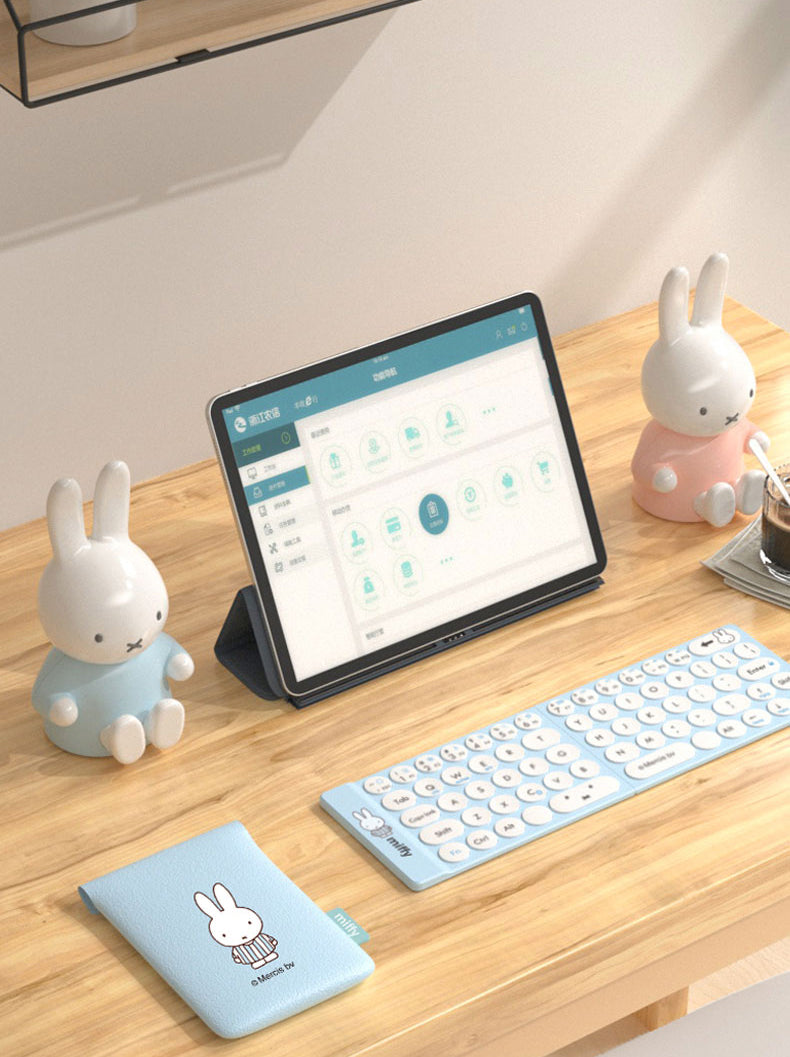 2 Color Pack Selections, Contains:
Miffy Foldable Bluetooth Keyboard X
1
Miffy Figurine Bluetooth Speaker X 1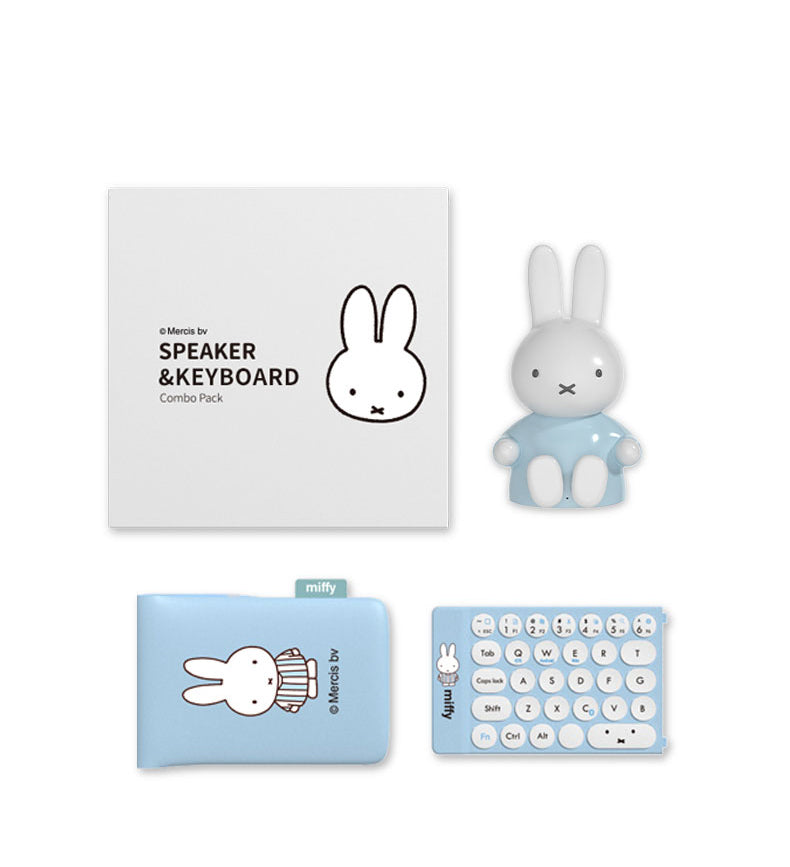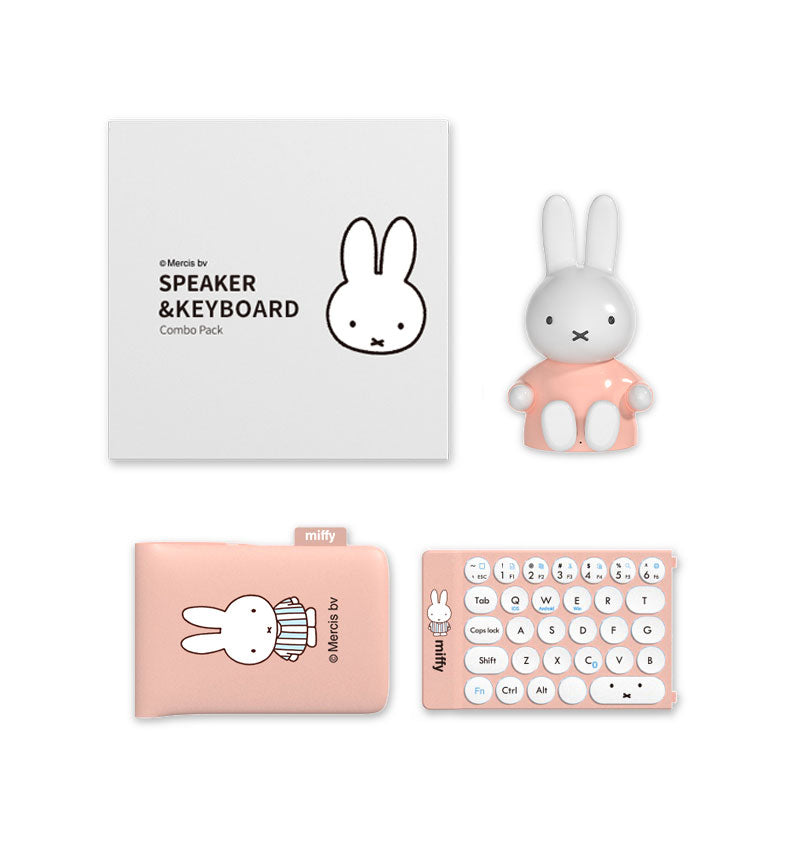 Become A Cute Miffy Workstation
Connected Bluetooth Keyboard and Bluetooth Speaker to your mobile phones or tablet
,
and turn it to a cute working station instantly. listen and enjoy to music
,
playing with bluetooth keyboard.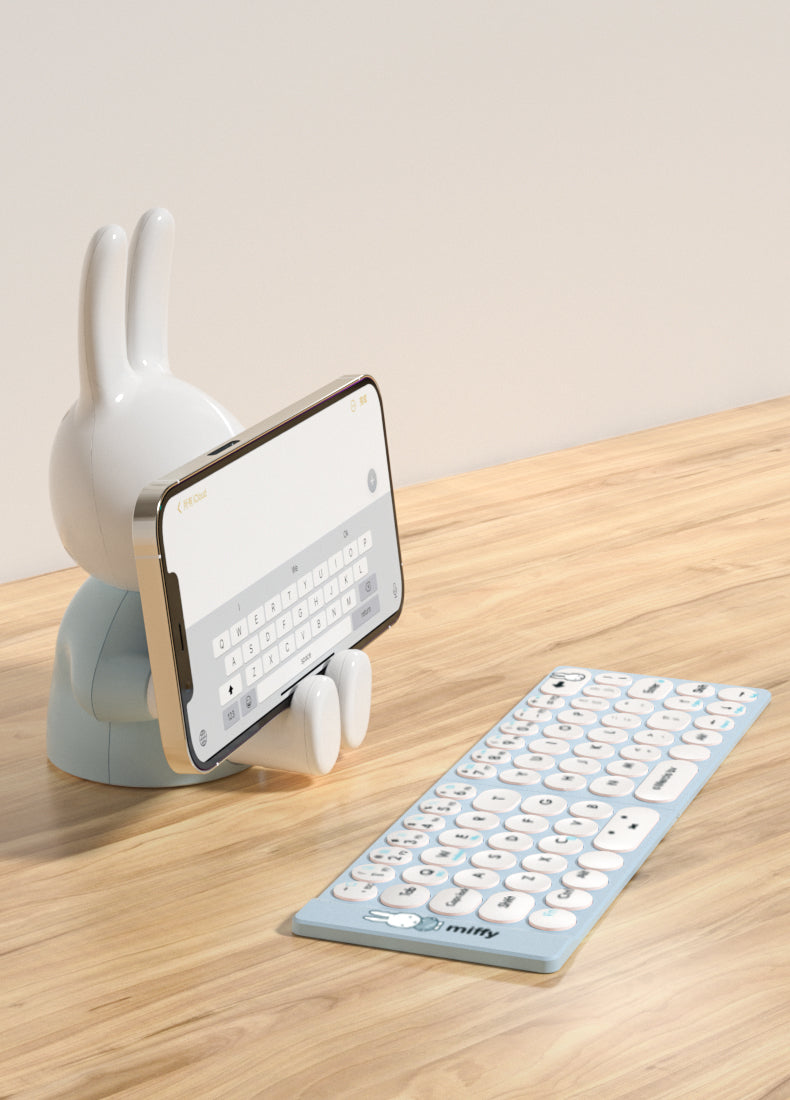 Foldable Keyboard
Lightest & Slimmest Bluetooth Wireless Foldable Keyboard in the world. 3.5mm thin
,
150g light-weight comes with full-size keypad layout
,
ergonomic design
,
tactile feel
,
smooth Input
,
high efficacy & no intermittent
,
and so fits for your day long usage. Unique concave and convex key cap design
,
light and comfortable operation feel
,
enjoy faster input speed



Bluetooth Compatibility

 
Bluetooth 4.2 Compatible with Multi-Systems like Windows
,
Apple IOS
,
and Andriod System
,
Supports Bluetooth mobile phone
,
tablet
,
and laptop
,
Also Compatible with Apple TV & Bluetooth Enabled Smart TV. Both Speaker and Keyboard is Bluetooth Compatible.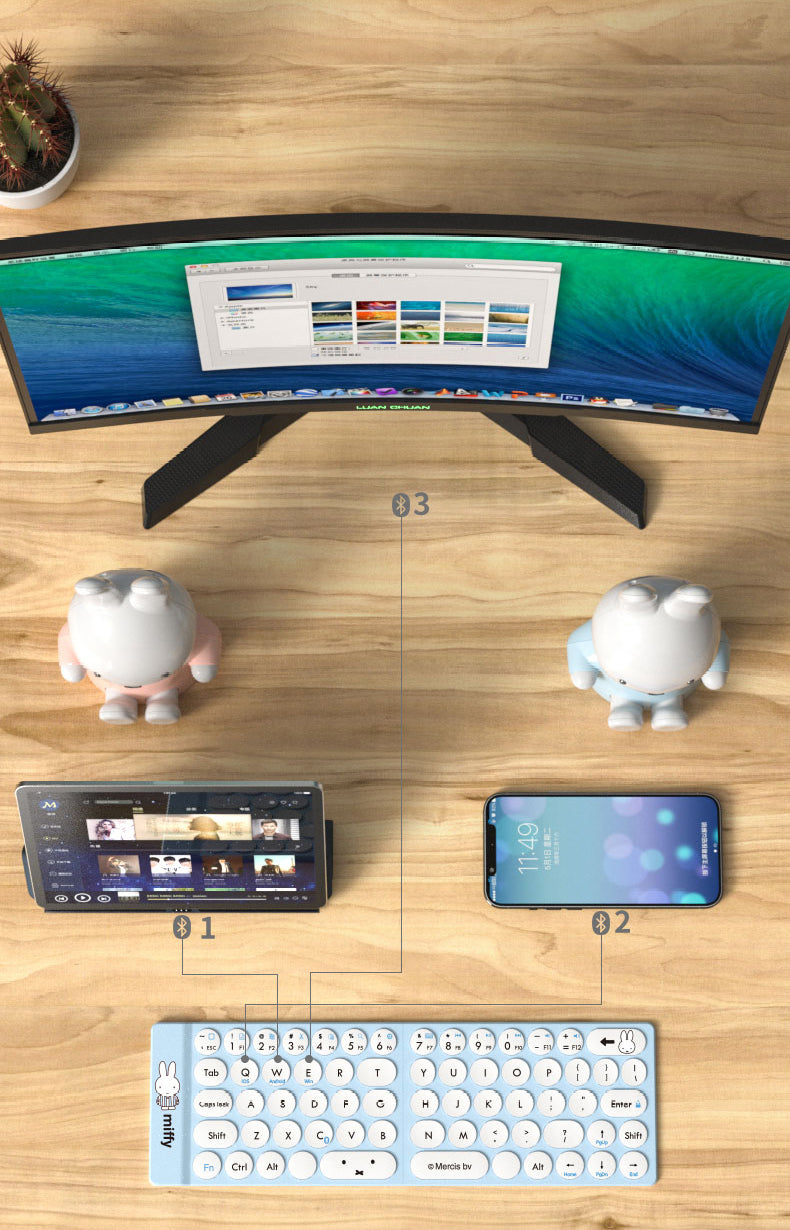 Slimmest, Lightest, & Foldable

 
It is 3.5mm thin
,
150g light-weight. 150g
(
4.9oz
)
only
,
hand-held with few finger not an issue actually. Lightest & Slimmest Bluetooth Wireless Foldable Keyboard in the world. comfortable for your day long usage.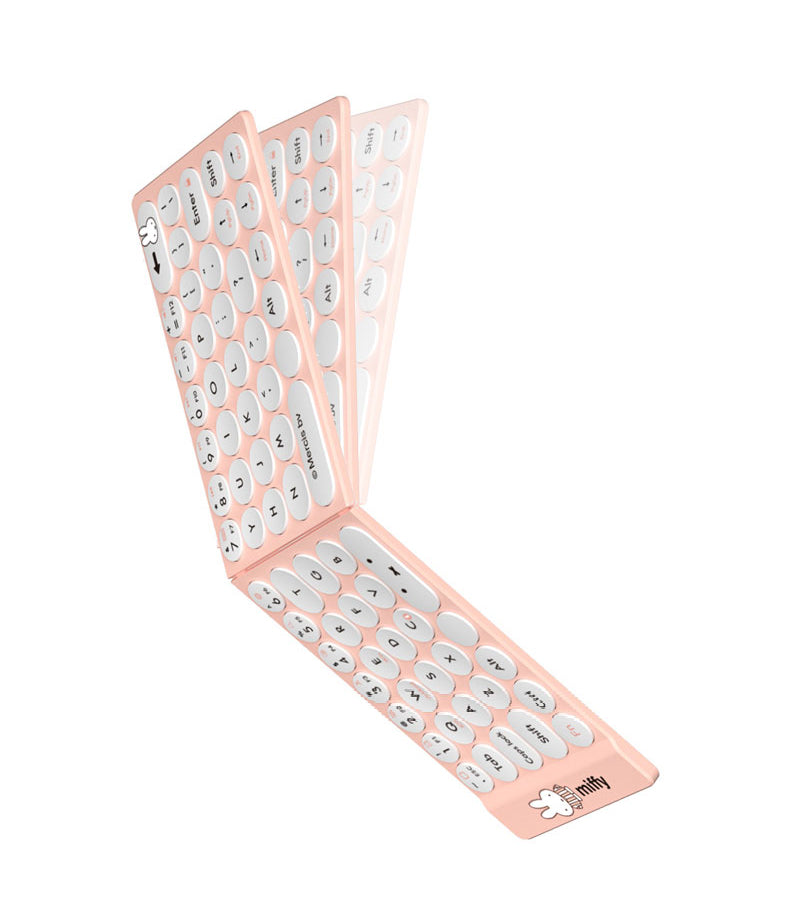 Smart Magnetic Wake Up/Sleep

 
Built-in smart magnetic on/off Switch for portable experience. Unlike other Folding keyboard with small key pad
,
SLIM-FOLD comes with full-size keypad layout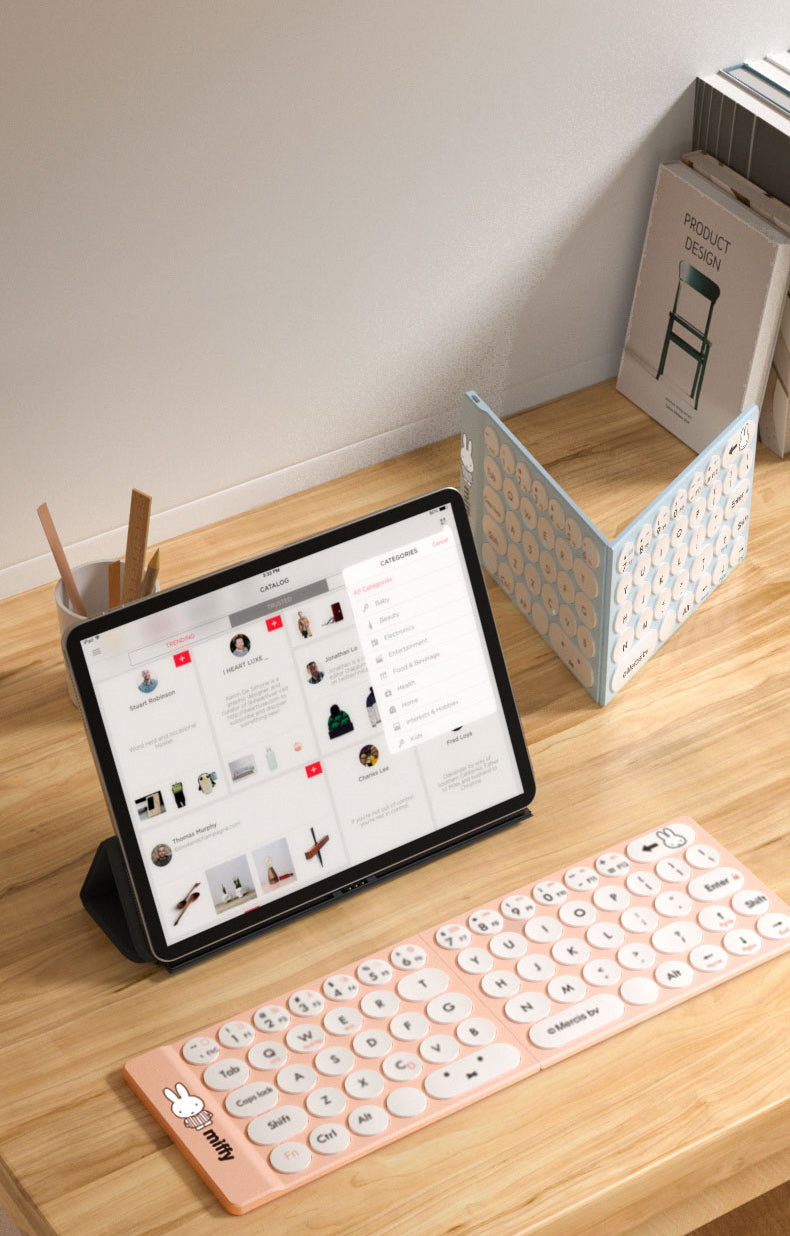 65 Keys with 120 Functions
Chocolate Button Design
Custom PBT key cap
,
wear-resistant and non-greasy finger touch more fit
,
can relieve your finger fatigue caused by long-term use of the keyboard. 65 full-size keys layout
,
compatible with FOUR different operating systems
(
iOS
,
Android
,
Windows & macOS
),
gives you 120 combination functions which include multimedia keys.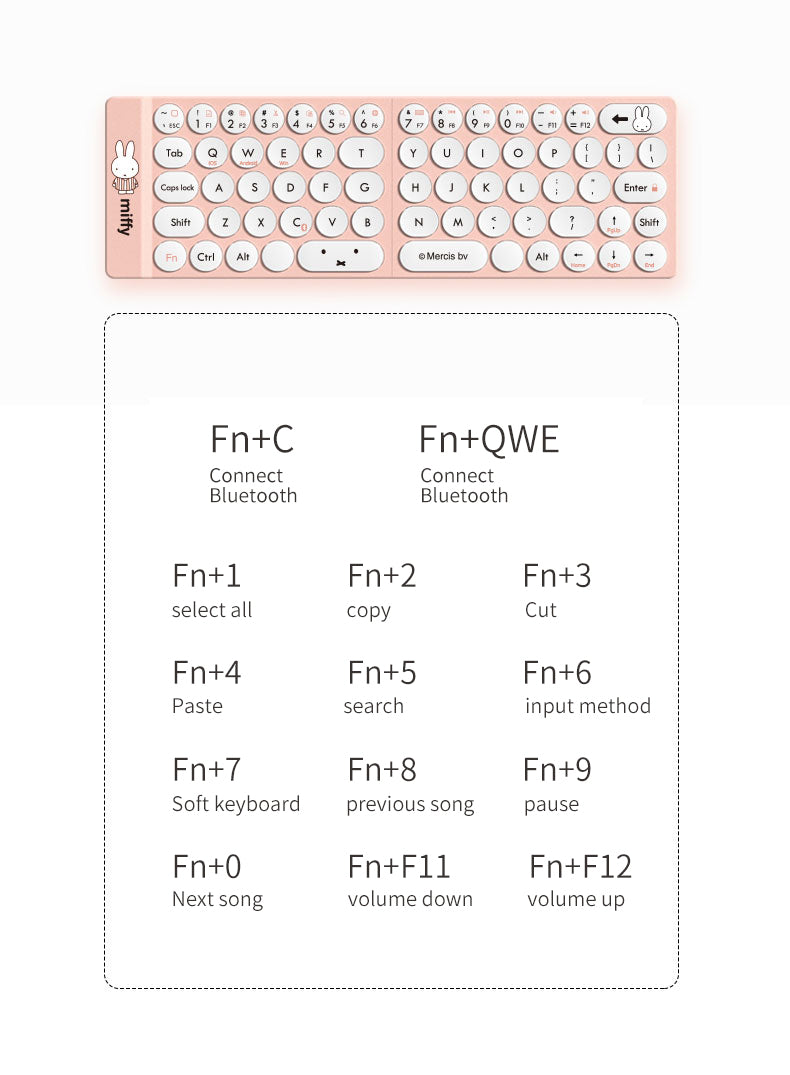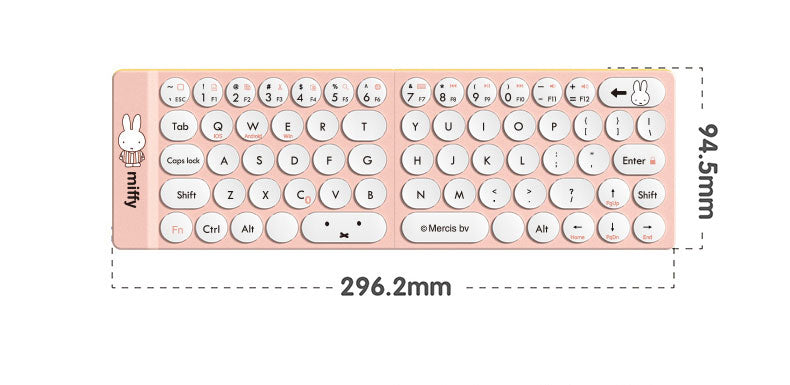 120 days Standby Time

 
Ultra-Low Power Consumption
,
Nordic Chip INSIDE
Keyboard can standby for 120 days.
Keyboard idle after 10minutes and enter Sleeping Mode. both Keyboard & Speaker is Battery Rechargeable.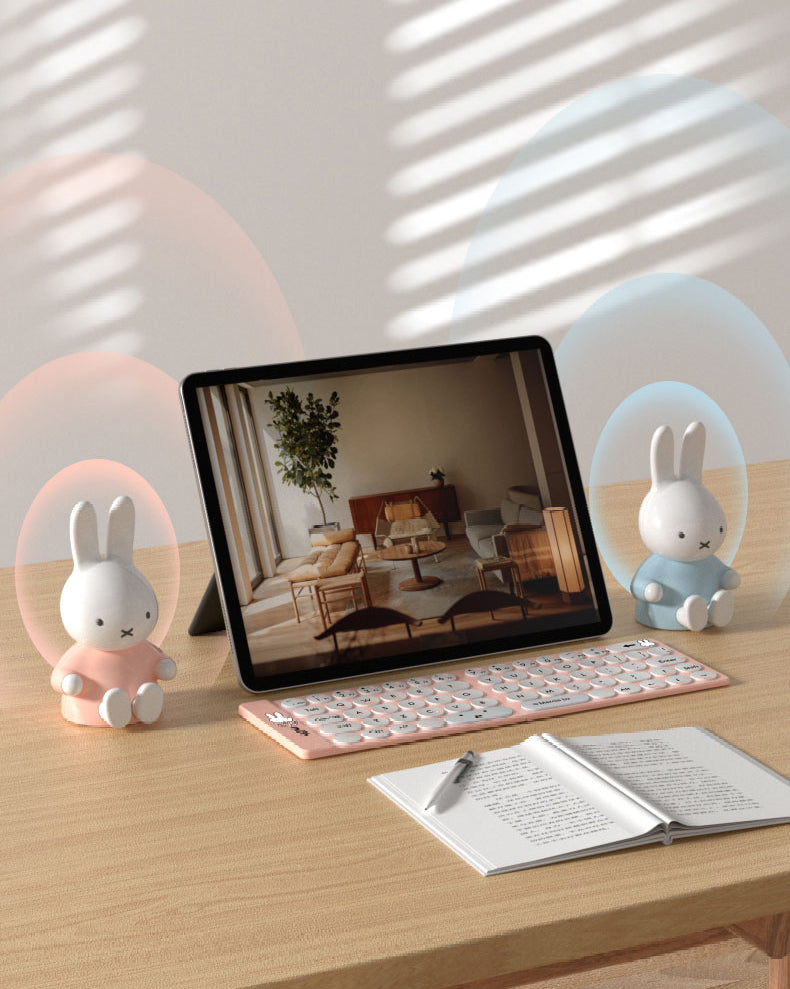 Pocket Size, Easy to Fit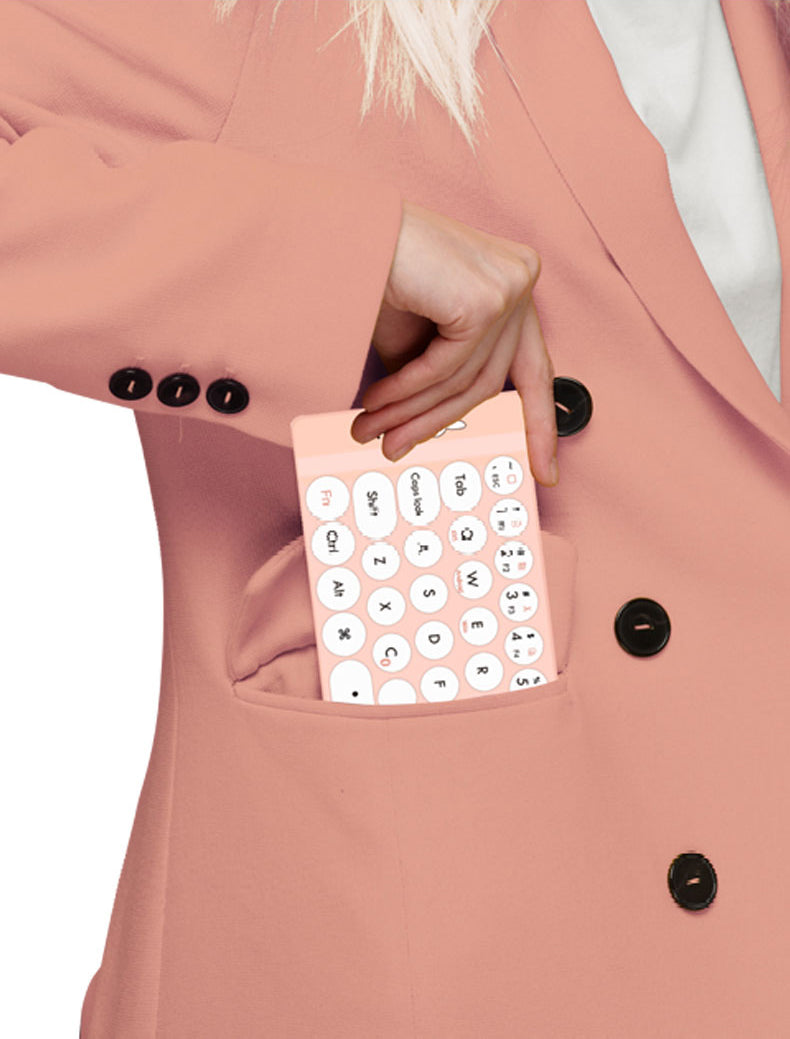 FREE Keyboard Pouch

 
Miffy Keyboard comes with a Miffy Leather Pouch to protect the keyboard when it
'
s folded in the bag
,
also included Free Stand to place mobile device.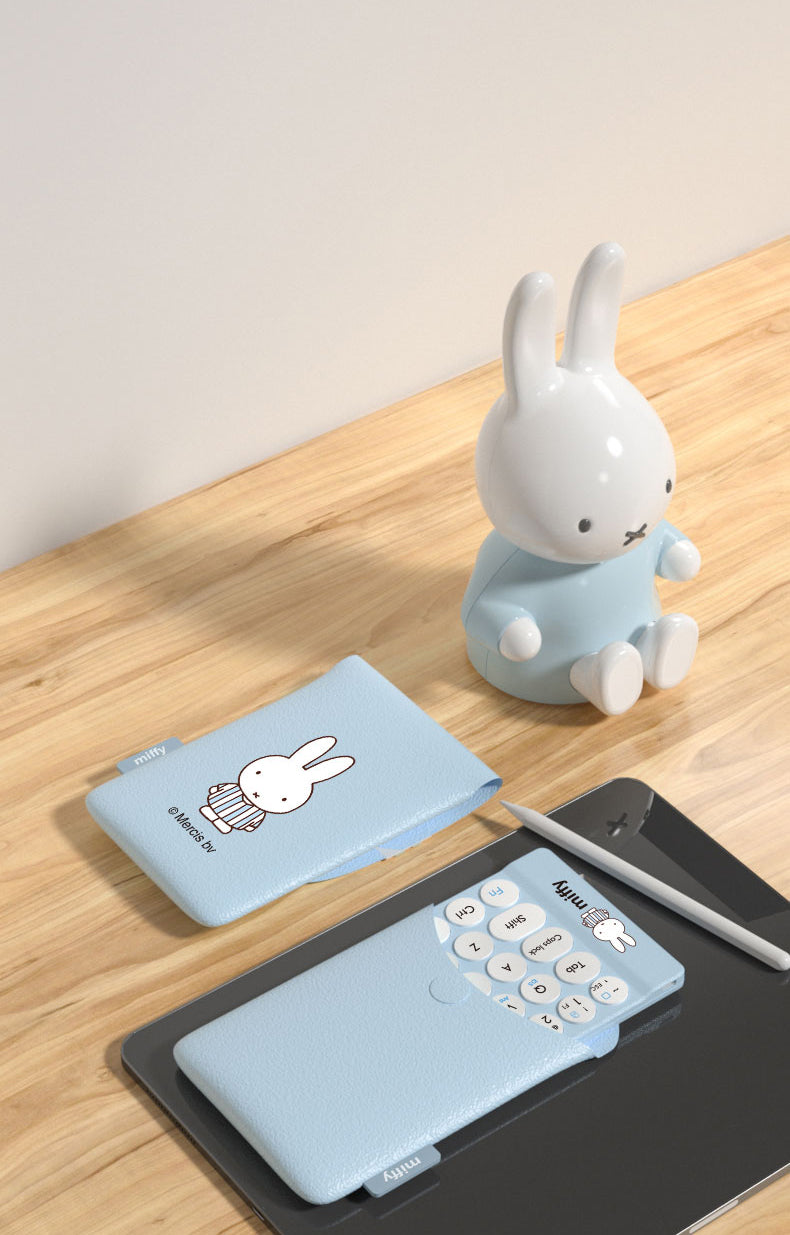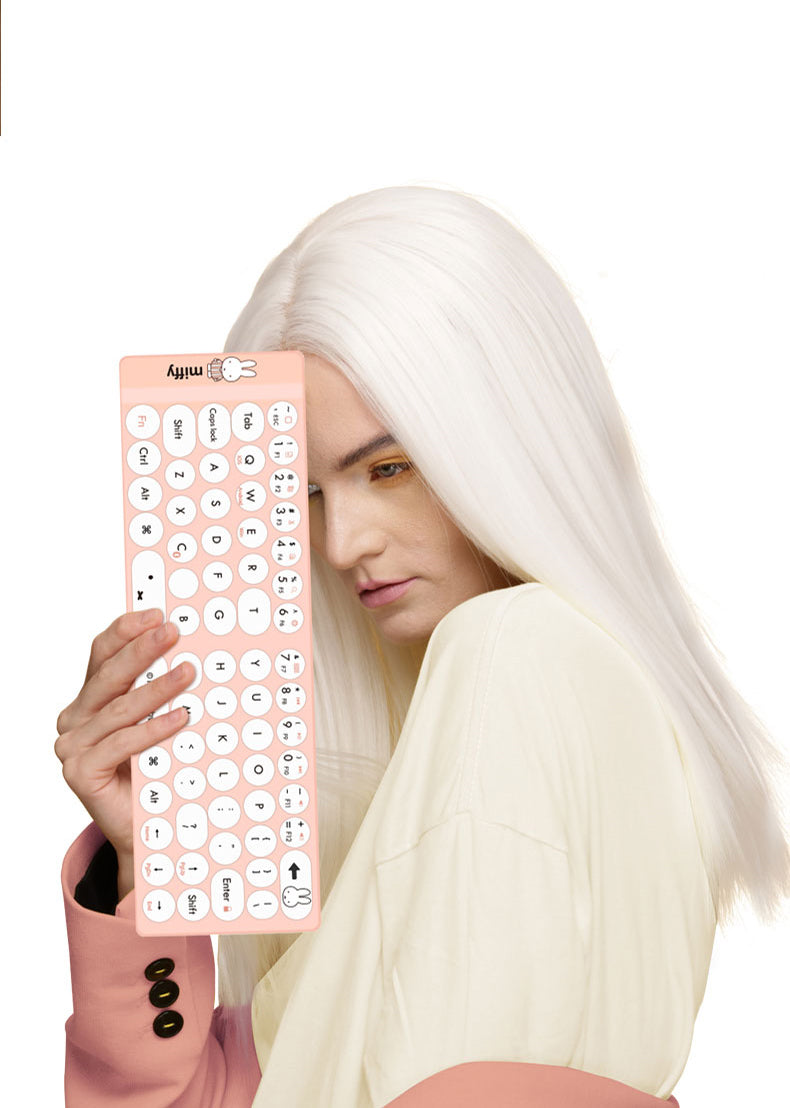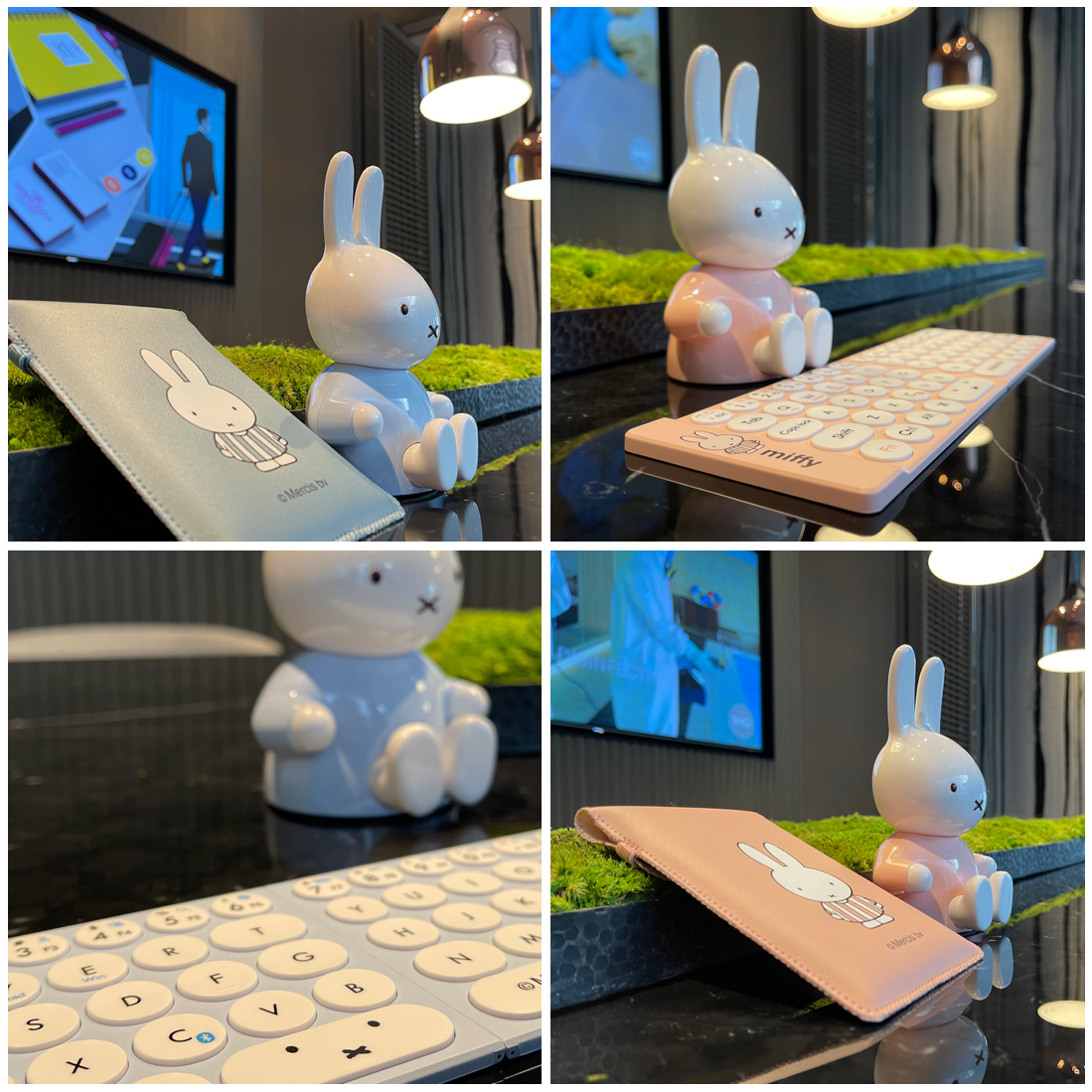 Bunny VS Cute Cuteness and kawaii Disney & Sanrio Pink & Blue Gift
For Payment
Pay with Credit Card by use the PayPal Express Check Out without Register PayPal account
1. Click On Express Check Out
2. Click On Pay with Credit or Debit Card
3. Enter your Email and Click Continue to Payment 
4. Enter Your credit cad number and information on credit card includes name, expiration date, and CSC Code 
For Shipping

 
We Provide World Wide Door to Door service. 
We $0 Free Ship to worldwide countries: Hong Kong SAR, Indonesia, Japan (45 of 47 prefectures), Malaysia, Philippines (81 of 82 regions), Singapore, South Korea, Taiwan, Thailand, United Kingdom, United States (56 of 62 states), China, Austria, Croatia, Czechia, Denmark, Finland, France, Germany, Hungary, Latvia, Luxembourg, Netherlands, Poland, Slovakia, Slovenia, Sweden, Australia, Ireland, Italy, Portugal, Spain 
We added $5 USD onetime special Handle Fee to Shipping for these countries: Albania, Algeria, Andorra, Angola, Anguilla, Antigua & Barbuda, Argentina, Armenia, Aruba, Bahamas, Barbados, Belarus, Belize, Benin, Bermuda, Bolivia, Bosnia & Herzegovina, Botswana, Bulgaria, Burkina Faso, Burundi, Cambodia, Cape Verde, Caribbean Netherlands, Central African Republic, Chad, Chile, Colombia, Comoros, Congo - Brazzaville, Congo - Kinshasa, Côte d'Ivoire, Curaçao, Cyprus, Djibouti, Dominica, Dominican Republic, Ecuador, Egypt, Equatorial Guinea, Eritrea, Estonia, Eswatini, Ethiopia, Fiji, French Guiana, French Polynesia, Gabon, Gambia, Georgia, Ghana, Gibraltar, Greece, Greenland, Grenada, Guadeloupe, Guatemala, Guernsey, Guinea, Guinea-Bissau, Guyana, Haiti, Vatican City, Honduras, Iceland, Iraq, Israel, Jamaica, Jersey, Jordan, Kazakhstan, Kenya, Kiribati, Kosovo, Kuwait, Kyrgyzstan, Laos, Lebanon, Lesotho, Liberia, Libya, Liechtenstein, Lithuania, Macao SAR, Madagascar, Malawi, Mali, Malta, Martinique, Mauritania, Mauritius, Mayotte, Moldova, Monaco, Montenegro, Montserrat, Morocco, Mozambique, Myanmar (Burma), Namibia, Nauru, New Caledonia, New Zealand, Nicaragua, Niger, Nigeria, Niue, North Macedonia, Norway, Oman, Pakistan, Panama, Papua New Guinea, Paraguay, Peru, Qatar, Cameroon, Réunion, Romania, Russia, Rwanda, St. Barthélemy, St. Helena, St. Kitts & Nevis, St. Lucia, St. Martin, St. Pierre & Miquelon, Samoa, San Marino, São Tomé & Príncipe, Saudi Arabia, Senegal, Serbia, Seychelles, Sierra Leone, Sint Maarten, Somalia, South Africa (8 of 9 provinces), South Sudan, Sri Lanka, St. Vincent & Grenadines, Sudan, Suriname, Svalbard & Jan Mayen, Switzerland, Tanzania, Timor-Leste, Togo, Tokelau, Tonga, Trinidad & Tobago, Tunisia, Turkey, Tuvalu, Uganda, Ukraine, United Arab Emirates, Vanuatu, Venezuela, Vietnam, Wallis & Futuna, Western Sahara, Yemen, Zambia, Zimbabwe, Tristan da Cunha, Belgium, Brazil, Canada, Mexico, United States (5 of 62 states), India 
If there's any shipment or other issues, you're welcome to drop us a few words via email at support@mipow.com.
Handling Time
All  order will be handled in 24 hours after recieve order, delivery notice will be sent to buyer upon shipment. 
Delivery Time & Notice
Delivery time would take around 7-15 business days.
Timing may be varied with the customs checking progress and depends on the real situation of the regions.
Shipping Address
When buyer fill in the info, please note:
-   Recipient Name
-   Address
-   Postal code
-   Phone contact
-   Email address
Please make sure these info are correct and in place.